Hi, my name is Gemma. I like long walks on the beach, violent Russian history, trippy 80s nostalgia and beat 'em up video games.
Mother Russia Bleeds was one of those games that caught my eye on the PlayStation store and proceeded to say 'hey, I wanna get that!' every time I saw it on there for the next 6 months. I eventually bought it when it had been reduced in a sale (it wasn't even that much to begin with) and instantly became annoyed at myself that I hadn't had bought it sooner. As mentioned above, that is a genuine list of things that I enjoy/am fascinated with (long walks on the beach I can give or take depending on the weather,) which is everything Mother Russia Bleeds is.
In all honesty though I haven't spent as much time with this game as I would have liked to by now, so consider this more of a first impression. However, what I have experienced so far in the short time I've spent playing is something I'm really loving and can't wait to progress with. In its simplest form, MRB is a side-scrolling beat 'em up set during a twisted alternative of 1980s Soviet Union. You play as one of four Romani characters that take place in street fights in the slums you call home. One day you're suddenly captured by Russian soldiers and left rotting in a cell for a month, waking up only to find that you're addicted to a drug that gives you monstrous strength, the ability to heal yourself and horrid hallucinations. Your one mission is to fight. Fight hard and out anyone that you see or that gets in your way, with the hope that the convulsing bodies you leave lying in your wake contain some of the much-needed drug. Violence is the only answer in this game, and it's great.
As I said, I'm really enjoying my initial play through of MRB but the one thing I'm struggling with so far is its difficulty. Of course knowing what I'm like with games anything over 'mildly inconvenient' is going to be a struggle for me, but for sure this game likes to throw you for a loop. One minute you could be fighting your way through prison cells with the greatest of ease, the next you could be fully charged but straight up one-punched by a bloated boss. I haven't got as far as I'd like to with this game because I can't. There's one bit of a level I'm very much stuck on and whatever I do I just can't get past it. So, yeah... any help would be greatly appreciated.
On the flip side to this however, I am looking forward to seeing what this game has to teach me in terms of skill - though side-scrolling brawlers are quintessential of the 'arcade era,' with many iconic titles being of this format, I've never properly played one before (shocking I know.) Having already fallen in love with fighting-centric games this year, such as Bayonetta, I'm excited to work with a 2D stage. At the end of the day as much as MRB intimidates me, I'm genuinely excited for a challenge.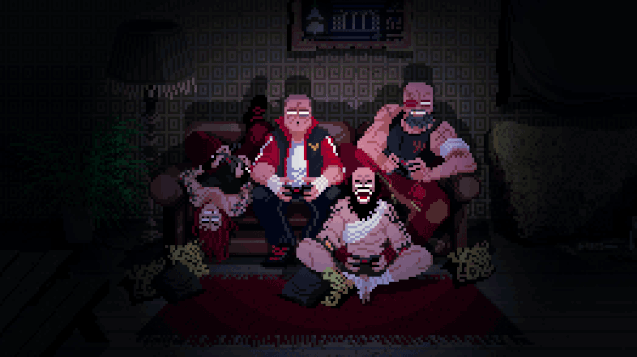 There's not too much else to say at the moment as I'm still fumbling my way through this game, but I have high hopes for how it's going to work out (if I can get past this bit of the level I'm stuck on!) It's really fun playing an indie game as well, as I felt I haven't in a fair while, and this is the first title from this company (Le Cartel Studio) so real props to them.
With gaming it's important to enjoy things at your own pace on your own level, but you should never be afraid of giving yourself a challenge every so often. Whether it's a game like this or something totally different, if it's something you're really interested in then sometimes it can be worth going the extra mile!